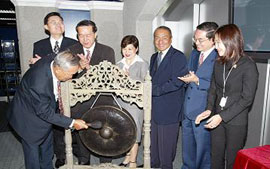 DIGISTAR CORPORATION BERHAD MAKES IMPRESSIVE DEBUT ON MESDAQ KUALA LUMPUR, November 7, 2003 – Digistar Corporation Berhad made its debut on the MESDAQ of KLSE.
Speaking to reporters after the listing ceremony, Datuk Lee Wah Chong, Managing Director of Digistar Corporation Berhad was pleased with the market response towards the company's IPO. "The enthusiastic market response indicates two things; that the Malaysian economy is on an upward trend, and that the investing public has confidence in Digistar Corporation Berhad. We will focus our efforts on adding to our shareholders' value and ensuring the greatest returns possible for all our stakeholders," said Datuk Lee Wah Chong.
"We believe that this successful listing would accelerate the growth of Digistar Corporation Berhad, as we strive towards excellence in providing integrated systems and ICT infrastructure to various sectors across Malaysia," added Lee Wah Chong. Part of the proceeds from the listing would be invested in Digistar Rauland MSC Sdn Bhd (DRMSC), a joint venture company, to spearhead efforts in research and development for the education and healthcare sectors. DRMSC is located at UPM-MTDC Technology Incubation Centre One along the Multimedia Super Corridor. "Digistar Corporation Berhad remains optimistic on the prospects for the systems integration and ICT infrastructure industry as the government continues to provide various incentives to promote and develop the MSC as a global ICT hub in line with the Eighth Malaysia Plan. We are appreciative of the government support, and expect to successfully customise ICT applications for the education and healthcare sectors within the next six months," said Datuk Lee Wah Chong.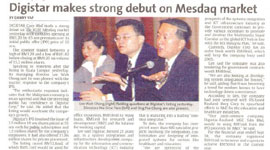 To date, Digistar has completed more than 400 specialist projects involving the integration and custom-designing of integrated systems for sectors including the healthcare and education sectors. Digistar Corporation Berhad through its wholly owned subsidiary, Digistar Holdings Sdn Bhd has been active in the system integration and infrastructure development for the ICT industry for the last 21 years, growing from a system house in 1982 to become a "one stop" system integrator. The company provides a wide array of systems throughout Malaysia such as IT infrastructure, teleconferencing, Local Area Networks (LAN), interactive media management system, Radio/Television news automation, telecommunication systems, integrated audio-visual systems and other advanced electronics systems. Among the completed projects in the company's portfolio are the provision of integrated systems for Putrajaya Convention Centre, University Tenaga Nasional (UNITEN), Hospital University Kebangsaan Malaysia, Malaysian government training centre (INTAN), as well as smart schools in Selangor and Seremban.